BITE-AWAY Mosquito Anti-Itching Device
$39.99

$39.99

Save

$21.98
---
---
Bite away ®by Riemser Pharma is a battery-powered pen used for the external treatment of insect bites, such as mosquitoes, bees, wasps, brakes, jellyfish, nettles and various insect species.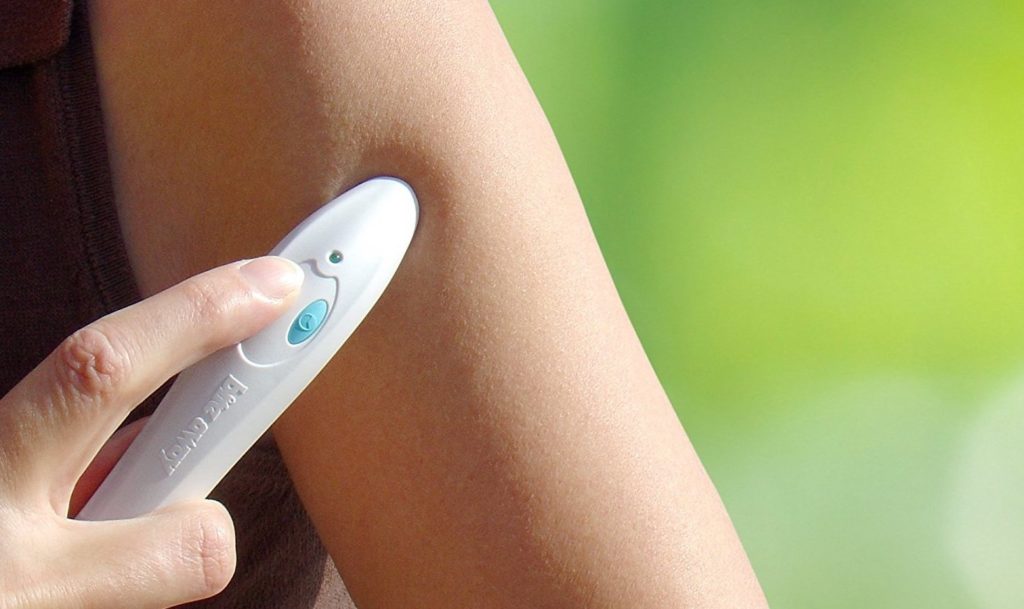 Bite away® is about as large as a large filler, can be taken while traveling.
It works with 2AA batteries and holds a felt eternity.


At the bottom of the pen is a small ceramic surface, which you press on the stitch, then heat the spot to 51 degrees Celsius for 3 seconds (children) or 6 seconds (adults).
51 degrees are actually pretty hot, but Don't worry, you won't get burned. After six seconds the procedure is finished and the itching usually decreases immediately.
That's awesome!
The Bite Away is based on a purely natural effect of concentrated heat.

If necessary, when the stitch is big, you can repeat the whole thing.
It & APOs; s best to use the Bite away® stitch healer immediately after the insect bite, but even at night it will be a great help if the unbearable itching pulls you out of your dreams!
✓ Practical and convenient, ideal for traveling.
✓It can quickly and reliably deal with various stab wounds and mosquito bites.
✓BITEWAY can work at high temperatures (51°C)-no chemicals!
✓Suitable for people aged 12 and above;
✓Very cheap, one can be used for more than ten years
Description:
Bite marks are an electronic device used to externally treat insect stings and insect bites (such as mosquitoes, wasps, bees, wasps or horse flies)
Prevent itching, pain and swelling caused by insect bites
The bite-off insect stick can only be used under concentrated heating, so (in contrast to many creams, ointments and gels) it is also suitable for pregnant women and children* (*for self-use from 12 years old)
Outdoor gadgets for campers, active athletes or travelers. Rescue your first aid kit and packing list
Dermatologically tested-can be used without chemicals
Contain:
1PC antipruritic instrument

---
We Also Recommend